Updates on Griffin Place bred, raised and sold runners and Stallions that GP has shares in.
---
NTRA Nootbook 12/31/09 AN ECLIPSE FOR THE AGES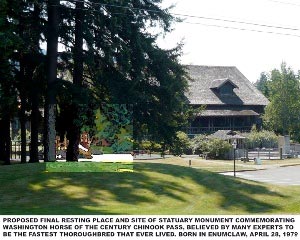 Griffin Place is supporting an effort to raise money for a statue of Chinook Pass. We can all be proud of this marvelous horse. In an effort to educate the public and preserve the history of our industry, we are supporting this worthy cause.
Feel free to join us in what will be a fun campaign. Following is an article written by John Loftus explaining what has been done so far.
Chinook Pass, believed to be the oldest living winner of Thoroughbred racing਩ghest honor, the Eclipse Award, will turn 31 on January 1.
Chinook Pass (Native Born堔urn/*Turn-To), was trained by Bud Klokstad and, at four, by Laurie N. Anderson. He was ridden by a cast of "Whoרo" racing legends that includes Hall of Famers Laffit Pincay, Jr., Chris McCarron and Bill Shoemaker. He raced from 1981-㠢efore retiring at the age of four with 16 wins from 25 starts and earnings of $480,073. In 1983, he was crowned Champion Sprinter after a campaign during which he won five stakes from seven starts. He remains the only horse from the Pacific Northwest ever to win an Eclipse Award.
Chinook Pass set a world record at Longacres for 5 furlongs in: 55.20, which still stands as the North American dirt record; equaled course records at Hollywood Park at 5 furlongs in: 56.00; Santa Anita Park, 6 furlongs in 1:07.60; and Longacres, 5 1/2 furlongs in 1:02.40.
Ron Charles, president of Santa Anita Park told John Loftus of Washington Thoroughbred Magazine, "Chinook Pass is the fastest sprinter ever to race at Santa Anita," adding that, "He was such a great racehorse, and so underappreciated. I donനink he gets the credit he deserves for being one of the fastest 馠not the fastest 诲se that ever lived."
襠jockey that rode him to glory, Laffit Pincay Jr., agreesೡid Loftus and will tell anyone who asks him that, "Chinook Pass is the fastest horse I ever rode and the fastest horse I ever saw."
Upon his retirement Chinook Pass returned to the place of his birth, Rainier Stables, and for the next several years was the state୯st famous pasture ornament. Then, for the past 20-plus years, Chinook has been with longtime care keeper, Jill Hallin.
Jill and Chinook have had many wonderful adventures together in retirement. He learned to dance 䨡t is, do dressage. And heୡde innumerable public appearances, including one as the surprise guest at the local premiere of the movie Seabiscuit, where he marched down the center aisle of a Seattle theater with a jockey on his back.
NTRA THOROUGHBRED NOTEBOOK
December 31, 2009
News and notes from around the Thoroughbred racing world, compiled by NTRA Communications, (914)481-8390.
A large party was held last April to celebrate his 30th birthday. E-mails streamed in from all over the country and were read aloud. There was even one from Ridgewood Ranch in Willits, California that called him "Washingtonӥabiscuit."
Chinook Pass is still the leader of his little five-horse band out at Hallin͡ple Valley ranch on the outskirts of Seattle. Being with younger horses, along with the loving care and excellent diet Hallin provides has kept him surprisingly fit for a Thoroughbred his age. Chinook is both her best friend for life and her greatest hero. All the years they堳pent together havenഡken one bit of luster off the awe she feels at being caretaker of this magnificent and historic animal.
In 2000, Chinook Pass was voted Washingtonȯrse of the Century, and plans are currently underway to construct a statuary monument in his honor. Like his namesake, the scenic byway that winds its way to the landform known Chinook Pass, was honored by the Federal Highway Administration as an All American Road in 1998. With Mt. Rainier in view at every turn, this road goes back to the Naches Trail trading route between Enumclaw and Naches with the Cascade Mountains to its west.
The equine Chinook Pass and the scenic Chinook Pass byway are truly two of Americaലeasures. And, fittingly, if all goes as planned, Chinook୯nument and eventual resting place will be on a little knoll overlooking that scenic byway as it leaves Enumclaw on its way to the lofty heights of the other Chinook Pass. But, looking at how he's feeling these days -- still eager and full of himself -- that statue might just get there before he does!
[top]
---
11/27/09
Rare Bear, bred and sold by Griffin Place, won at Turf Paradise going 6f in 59.3. Congratulations to her trainer, Neil Knapp and her owner Jack M. Zaborac.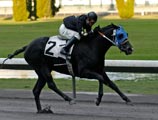 GP sales graduate, MISS CURRENT SEA winning the Lassie Stakes. Win photo.
11/11/09
Griffin Place Sale graduate, MISS CURRENT SEA, won the Lassie Stakes for 2YO fillies at Portland Meadows beating her rivals by 6 ½ lengths. Congratulations to her breeder, Carol Kingston, her owner LD "Rado Thoroughbreds and her trainer, William Le Vanway.
[top]
---
10/31/09
2008 WTBA Summer Yearling Sale graduate consigned by Griffin Place Miss Current Sea, a juvenile daughter of Petersburg out of No Lost Action, by Wander Kind, went gate-to-wire to take a 3 1/2-furlong maiden special weight race at Hastings Racecourse by 2 3/4 lengths on October 31. Raced by L D Radio Thoroughbreds, the new winner was bred in Washington by Carol Kingston.
10/29/09
Shou Win, bred and sold by Griffin Place, (Liberty Gold / Bold Magestrate f.) won $12,500CL 5f. at Golden Gate Fields. Congratulations to her owners, Rizzo Racing Stable, Inc., and to her trainer Gloria Haley.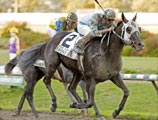 GP sales graduate, Ebony N Ice winning the $100,000 Fantasy Stake October 2009. Win photo.
10/24/09
Ebony N Ice, Consigned by Griffin Place, won the $100,000 Fantasy Stake for 2YO fillies at Hastings Racecourse.
Congratulations to Chris and Nancy Webber, her breeders, Barbara Heads, trainer, and Leif S. Nordahl, owner.
[top]
---
8/14/09
Rare Bear, owned by One Horse Will Do Corp and Griffin Place, won handily going 6f in 56.8. Congratulations to her trainer, Chris Stenslie and jockey Gallyn Mitchell. Thank you also to all our friends who joined us in the winners circle.
8/10/09
GP SALES GRADUATE, FORENER SCRATCHED FROM PREMIO ESMERALDA
MIGHT RUN IN HOPEFUL STAKES AT SARATOGA
Owner Keith Swagerty said he has sold a majority interest in Forener to an undisclosed buyer and said the Lost Soldier gelding would be shipped to New York and could run in the Grade I, $300,000 Three Chimneys Hopeful Stakes at Saratoga on Sept. 7. Swagerty said that details have not been finalized, but that he will retain at least 40 percent ownership of Forener. The new trainer will be Kiaran Mclaughlin, who also trained Forener's sire Lost Soldier. "I'm disappointed to not run today, but I had to look at the big picture," Swagerty said. He added that if Forener runs well in the graded stakes—the plan would be to look forward to the Breeders' Cup. Trained by Vann Belvoir at Emerald Downs, Forener is unbeaten in two starts including a nine-length allowance victory in 1:03 for 5 ½ furlongs.
Here's the five-cross pedigree for Forener...

Though he is a KY-bred, Keith Swagerty still owns 40%...

Hopefully a possible WA-connection to the Breeders' Cup...Hope he does well and runs well in the Hopeful...
[top]
---
7/31/09
Bella Cavalla (Cahill Road / Deputy Belle) bred by Griffin Place, ran an impressive second in her first start. She was 8th going into the first turn, was taken 8 wide and made a big move down the stretch to just miss my a nose. Congratulations to her owners, Horseplayers Racing Club & Will Brewer, her trainer Terry Gillihan and her jockey Jose Zunino.
Note: Princess Delaney the winner of the race was raised by Griffin Place. Congratulations to her owner Duane Weber and a special remembrance for her breeder, the late David Reising.
Another little side note: the jockey never even uncocked his whip in the race. The filly did all her running on her own.
7/26/09
Thoroughbred Legends Racing Stable's TINY WOODS (Roman Ruler) prevailed at first asking in Saturday's 7TH race at Del Mar, a salty maiden special weight. The Bob Baffert trainee sprinted to the early lead as the 8-5 favorite, set fast fractions, and stayed on gamely to fend off fellow debutant Sidney's Candy (Candy Ride [Arg]) by a head. Samardo (Stormin Fever), another first-time starter, made an eye-catching late run for third, just three-quarters of a length back of Sidney's Candy. With Mike Smith aboard, Tiny Woods negotiated 5 1/2 Polytrack furlongs in 1:04 1/5. The dark bay colt is out of Brooklynsangel (Aggressive Chief), a half-sister to Champagne S. (G1) and Hollywood Futurity (G1) star Toccet (Awesome Again). Tiny Woods, Sidney's Candy and Samardo are all nominated to the September 7 Del Mar Futurity (G1)...
7/18/09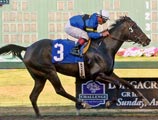 Rare Bear, TJ High School Class of 79 Purse. Win photo.

Winning by 4 lengths, Rare Bear, broke her maiden in the $7,500MdCl 7 furlong race at Emerald Downs. Thanks and congratulations to co-owner Jody Petz, trainer Chris Stenslie and jockey Gallyn Mitchell.


7/19/09

Forener, a Griffin Place sales graduate, won an Allowance $19,000 added race by a convincing 9 lengths. This promising colt has been called the best 2YO colt at Emerald by the media. Congratulations to his connections, owner Swag Stables, trainer Van Belvoir, and jockey Gallyn Mitchell. Also a special thank you to Chuck Arnold for consigning with us.
[top]
---
6/21/09
Griffin Place sales graduate, 2YO Forener, won his first out MSW at Emerald Downs. Congratulations to his owner Swag Stables, his trainer Van Belvoir and his rider G V Mitchell.
6/21/09
Skyattic, another Griffin Place sales graduate CL $32,000 at Emerald Downs today as well. Congratulations to his owners Richard and Gaylin Landeis, his trainer Jim Penney and his breeder Jerry Byers.
[top]
---
5/25/09
Griffin Place sales graduate, Newfound Man won his MSW impressively by 8.5 lengths. Congratulations to his breeder, Coal Creek Farm, his trainer, Blaine Wright and his owners, Jon and Janene Maryanski.
5/24/09
Griffin Place bred and sold, Final Judgement, a 3YO colt (Northern Afleet x Best Judgement) won allowance 1 mile 70 yds on the all weather track at Presque Isle Downs, $38,000 purse. Congratulations to his connections, owner Jeff Stoddard, trainer Jimmy Corrigan, and jockey Mario Pino.
5/17/09
R.Samurai, ch. colt by Golden Missile out of My Chanel won MSW at Emerald Downs. Congratulations to his owners, R and R Warren, his trainer Jim Penney and his breeder, Adena Springs. R.Samurai is a Griffin Place sales graduate and was the highest priced Milwaukee Brew in the country to sell in 2007.
[top]
---
2/27/09
Final Judgement (Northern Afleet x Best Judgement) won the $42,000 MSW by 4 ½ lengths going 1 Mile 40 yards on the dirt at Fair Grounds. Congratulations to owners Jeff and Shawn Stoddard, jockey Robby Albarado, and trainer David Carroll. Final Judgement was bred, raised and sold by Griffin Place. (HRTV pointed out that he was out of a multiple stakes winning dam and a WA bred running in New Orleans,)

On the same day, Best Judgement's other foal, Holy Coyote (Holy Bull x Best Judgement) ran second at Golden Gate.
2/8/09
Holy Coyote, by Holy Bull out of Best Judgement, a Griffin Place bred, won starter allowance at Golden Gate Fields. Congratulations to his connections, trainer Lloyd Mason and owners Robomar Racing.
[top]
---
1/22/09
Griffin Place sales graduate, Thirteengoldhearts, named after the owner's grandchildren, won $32,000MCL at Golden Gate. Congratulations to owner / trainer Howard Belvoir and breeders, Robert and Linda Weeks.
1/1/09
Free Action (Free At Last x No Lost Action) a Griffin Place sales graduate, ran a nice closing second in the $75,000 Golden Bear Stakes at Golden Gate. Congratulation to his connections owner Billie Klokstad, trainer Bud Klokstad, and breeder Carol Kingston. What a nice way to start off the New Year! PDF results...
[top]