Updates on Griffin Place bred, raised and sold runners and Stallions that GP has shares in.
---
11/15/06
Time Tosay Goodbye won MSW $40,000 purse @ Hollywood Park for Mark Glatt in her second start. Griffin Place will be selling her half sister at the WTBA winter mixed sale, this December. See hip number 79.
[top]
10/5/06
Western Missile, bred by Griffin Place, ran a very game second at Belmont missing by a head bob. It was Claiming $75,000 going 1 1/16 on the turf. Western Missile is by Golden Missile out of Outofthebluebell, dam also of G1 SW Rings a Chime. Racing [PDF] chart for the sixth race...
[top]
9/30/06
Joffre, bred and sold by Griffin Place, won 2YO Maiden Special Weight at Northlands Park by three lengths. Congratulation to owner/trainer Ron Smith. Joffre is by Free At Last, out of Deputy Belle by Silver Deputy.
9/16/06
Tribunal's latest winner, A Touch Of Malice, blew away his opponents in the third race. The first time starter won the 5 ½ f race by 10 ½ lengths in 1:03. Congratulations to his owners/breeders, Jean and Ed Welch and his trainer, Howard Belvoir.
This makes his 4th winner from 9 starters including the SW Judicature.
9/2/06
WILD CYCLE PULLS A SHOCKER IN WTBA LADS
By Emerald Downs
Wild Cycle, inside, holds off the late charge of Pirates Deputy to win the $55,000 WTBA Lads.

AUBURN, Wash. (September 2, 2006) – Wild Cycle, a 47-1 long shot, came from off the pace for an upset win in the $55,000 Washington Thoroughbred Breeders Association Lads Stakes at Emerald Downs.

The 3-year-old son of Free At Last, trained by Aubrey Villyard and owned by Frank Gaunt, broke from post 12 in the mile affair with Juan Gutierrez in the saddle.

Wild Cycle raced six wide on the first turn before settling about seven lengths off Immigration, who rushed to the front from post 11 and set fractions of 22 3/5 seconds for the opening quarter mile and 45 4/5 at the half-mile mark.

"I had confidence from the break because my horse was comfortable," Gutierrez said. "I talked to Aubrey in the morning and he told me to follow Immigration, without putting a lot of pressure on my horse."

As the field moved down the backstretch, Gutierrez let his horse move closer to the front as Honour the West and Liberty for Al began to pressure the leader. Off the far turn, Wild Cycle angled out to make his charge at Immigration.

"At the three-eighths (pole) I started to ask him a little bit to see what kind of horse I had," Gutierrez said. "At the quarter pole I asked him for everything."

By the head of the stretch, Wild Cycle took the lead while stablemate Pirates Deputy and jockey Nathan Chaves gave chase.

'They were stacked up a little (on the turn) and we were outside," Chaves said. "My horse ran his race. He's still a maiden and he doesn't quite know how to win, yet."

Wild Cycle finished a neck ahead of Pirates Deputy, stopping the clock in 1:37 and returning $96.40, $36.40 and $15. Pirates Deputy brought in $6.40 and $5.40 for second while Full Power Ahead paid $3.60 for third.

* In the 10-year history of Emerald Downs, Wild Cycle became just the third horse to win a race from post 12 in a two-turn race.

* Purchased for $38,000 as a yearling, Wild Cycle was the sales topper at the Washington Thoroughbred Breeders Association winter mixed sale.

* The stakes victory was the second win of the day for Gutierrez. He also won the second race ridding Two Under Par for trainer Rigoberto Velasquez.

* Jockey Ricky Frazier had a riding double on Saturday, prevailing with Careless Heart in the first race for trainer Frank Lucarelli and Gold Deville, conditioned by Pat Mullens, in race seven.

[top]

8/19/06
Griffin Place sales graduate, Banish the Blues, won the 1 1/16 Les Mademoiselle Don Harmon Memorial Stakes at Ferndale. Congratulations to her owner Denny McGuire, her trainer Pat Truitt and her breeder Bear Creek Meadows. View racing chart PDF...

8/13/06
Legally Mine, sired by Tribunal, won maiden claiming at Emerald Downs. Congratulations to owner Garth Weeks, trainer Vince Gibson and breeders Ron & Nina Hagen.

8/12/06
JUDICATURE PREVAILS IN KNIGHTS CHOICE
By Emerald Downs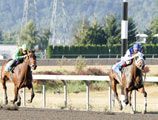 Judicature shakes clear of Irene's Bonus Baby to win the Knights Choice Stakes. Photo provided by Emerald Downs.

AUBURN, Wash. (August 12, 2006) – Judicature won the $45,000 Northwest Stallion Series Knights Choice Stakes in gate to wire fashion at Emerald Downs on Saturday. It was the filly's second consecutive stakes victory.

The 2-year-old daughter of Tribunal broke sharply from post three with Ricky Frazier in the irons, taking the lead in the opening yards of the 6 ½-furlong affair.

"I let her break and she settled," Frazier said. "This filly is on top of her game. I think she's awesome."

Judicature set fractions of 22 4/5 seconds for the opening quarter mile, and 46 for the half, as Irene's Bonus Baby, ridden by Hector Ventura, Jr., gave pressure from the outside.

"We were hoping to be out in front." Ventura said. "We got out pretty good, but Judicature got out pretty good too. I wasn't going to burn my horse out on the backside trying to get the lead. We went head to head and my horse just got outrun."

Coming out of the turn, Judicature began to pull away from the field, extending her lead to three lengths at wire while stopping the clock in 1:17 3/5.

Judicature paid $2.80, $2.10 and $2.10. Irene's Bonus Baby held on for second to return $2.60 and $2.20. The Cahill Special finished third and paid $2.60.

The victory was the fourth stakes triumph of the meet for trainer Bill Tollett, who leads all conditioners at the current Emerald Downs meet in stakes victories. Tollett won the Federal Way Handicap with Diamond Dollars and the FSN Handicap with Spanish Highway in addition to the two stakes captured by Judicature.

Frazier has also won four stakes at the meet, and he is the leader in that category among Emerald jockeys this season. Frazier won the Washington State Legislators Stakes and the King County Handicap with A Classic Life and the Mt. Rainier Breeders' Cup Handicap aboard Flamethrowintexan. Frazier led the local colony in stakes victories last season with 10.

* Trainer Jim Penney won two races on the card, tallying his 29th and 30th victories of the meet.

[top]

7/28/06
Lady Jessie, bred and sold by Griffin Place, won again by 2 1/4 lengths at Emerald Downs. Congratulations to her owners, Neil Knapp and Jim Kwong. More...

7/18/06
SUF, 9TH, ALW, $16,660, 3YO/UP, A1M70YT, 7-17.

WESTERN MISSILE, g, 3, Golden Missile--Outofthebluebell, by Red Ryder. ($155,000 yrl '04 KEESEP.). O-Susan Karches, B-Mr. & Mrs. William T. Griffin (WA), T-Lisa L. Lewis, J-Winston Albert Thompson, $10,200.

7/16/06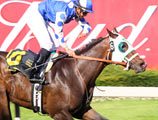 Judicature. Photo provided by Emerald Downs.


Tribunal's first record setting stakes winner – Judicature.
Congratulations to owners David and Elaine Parks, and Ramer and Clare Holtan. Syndicate Manager, Mary Lou Griffin. Congratulations to all of you who supported Tribunal. More...

7/8/06
The maiden special at Emerald Downs was an exciting "Griffin Place sales graduate exacta"! First time starter, Wild Cycle won by a head bob over Liberty for Al.

Wild Cycle was the sale topper at the 2005 WTBA winter sale. The colt was bred by Robin Mason, Stormy Hull and Art Burt. He was purchased by Frank Gaunt, and trained by Aubrey Villyard.

Liberty for Al was purchased at the 2005 summer sale. He was bred by Claudia Canouse, purchased by Golden Aggie Ranch, and trained by Doris Harwood.

The two colts beat an outstanding field of well bred colts. Congratulations to all.

7/2/06
Eastern Accent, a GP sale graduate, won an allowance race at Emerald Downs going 1 mile. He is by Eastern Echo out of Netka. Congratulations to his owner Billie Klokstad, trainer, Bud Klokstand, and breeder Brad Gering.

7/1/06
Our syndicate filly, Foxwood Belle, broke her maiden. It was a $20,000 CL race going 6 f. We were delighted and the syndicate members are ecstatic. Congratulations to all and thank you to trainer Sharon Ross.

[top]

6/11/06
Hockey Fan, bred by Griffin Place, was an impressive winner of the 6F Maiden Special Weight at Bay Meadows. Congratulations to his owner, Geroge Krikorian and trainer, Art Sherman. Hockey Fan is by Out Of Place – Cozzene's Angel by Cozzene.

[top]

5/25/06
Griffin Place sale graduate, Wee Jinky (In Excess – Crafty Josie, by Crafty Prospector), won CL $50,000 at Hollywood Park going 1 1/6 on the Turf. Congratulations to his trainer, Barry Abrams and owner Team Green.

[top]

4/28/06
Lady Beverly's filly wins by 7. Click here for the racing chart. Requires FREE Adobe Reader [download now].

[top]

3/26/06
Regal Chime, first foal out of Rings a Chime, won her first start, a MSW at Gulfstreaam Park. The Kingmambo filly came from behind in a beautifully run race to win the 1/16 on the Truf for her owners, Stonerside Stables. Griffin Place, bred Rings a Chime and still has her dam, Outofthebluebell, and two of her ½ sisters, Marylou's Girl and Campanita. [racing chart (free Adobe Reader required)]

[top]

2/23/06
Griffin Place sales graduate, Tangled Lace won her maiden $40,000 claiming at Golden Gate Fields. Tangled Lace is by General Meeting, out of Tangled Web by Flying Paster, bred by Carol A. Kingston. Congratulations to Greg Gilchrist, trainer and Joseph Stiglich, owner.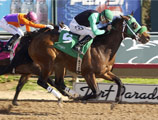 Keagan, Turf Paradise Derby 2-11-06 Race 8. Photo By: Kevin Coady/Coady Photography
2/13/06
Griffin Place bred, raised and sold, KEAGAN won $75,000 at the Turf Paradise Derby Stakes on February 11, 2006. Unhurried and four wide, Keagan closed the gap soon after entering the far turn. Congratulations to his owners, Gary Olson, Randy Bafus, Gary Stevenson, and Eric Kruljac, his trainer, Eric Kruljac, and jockey S.A.Stevens. Keagan is a 3 YO colt by Basket Weave out of our mare Atoyac.
[top]