updates on how to make money from testing products bred, raised and sold runners and stallions that gp has shares in.
---
11/18/01
shek-o prospect was claimed!. it was his second race after being beat by 30 lengths in his first start (msw). anyway, it was very unlikely that he would be claimed and we wanted to race him where he had a better chance of winning. he broke well and ran well until the last 1/16 of a mile at which point he started getting some dirt in his face. he was bothered by that and threw his head up and backed off. he did finish fourth anyway. his new owners and trainer are dino bongi & steve specht trainer: steve specht .from the drf chart caller "shek o prospect settled early, advanced inside to mid stretch, seemed reluctant to split horses in the deep stretch and hung". needless to say there is no joy at griffin place.
---
11/12/01
sheko-prospect runs in a maiden claiming race on the 14th, 5-1/2 furlongs at golden gate.

---
11/08/01
best judgement was fouth at 6 furlongs at golden gate fields
---
11/04/01
campanita has come home for some r&r and will run again next year
---
11/03/01
sheko-prospect ran a dirt race a golden gate, 6 furlongs, ran last, oh well we will try again
[top]
---
10/20/01
bessie ran on the turf for the first time, didn't win, but seemed to like it. she got bumped really badly as she was starting to move and lost all her action. but we will try again. campanita is coming home for some r&r. next year.
---
10/17/01
yesterday was one of those terrible days only "horsepeople" could understand. doris said that both shek o and campanita are sick. campanita may need to go to the clinic (hospital in layman's terms). bold magestrate aborted her pine bluff foal. we found her in the field with the fetus. of course we did an autopsy and sent in tissue samples but there was nothing abnormal looking. i can't help but wonder if it has something to do with the ky mare syndrome. we may never know.
today is a little better. doris called and said that campanita is much better and shek o is wild. however, now i have the flu....... so it goes.
---
10/2/01
bay meadows, shek-o was gate ok'd. a couple of more works and then he starts
[top]
---
9/30/01
bay meadows race 7, maidens 6 furlongs, two year old fillies
campanita was was 5th. the chart caller said dueled from the rail to the upper stretch and then slackened. she lead through the first 4 furlongs.
---
9/26/01
bay meadows: campanita runs this weekend, shek-o's shins seem to be recovering
---
9/21/01
bay meadows, best judgement, campanita and shek-o prospect arrived at bay meadows this morning. everyone was tired but fine.
---
9/16/01
emerald downs, campanita ran today, led into the home stretch, wouldn't switch leads, faded. perhaps as the uk commentators say, the "penny hasn't dropped yet" and she is still learning how to be a race horse. a little more growing and maturing and, well, she's bred to be a race horse, time will tell.
---
9/05/01
arlington park 1 mile turf stakes trial purse $26,000 open
false pass pressed the pace just outside, rallied to a short lead in the stretch and just failed to last. he was just a neck short, but his winnings have gone over $100,000.
[top]
---
8/30/01
for those that watched campanita's race last weekend that for her was a learning experience. she should move forward off of that effort. shek-o has sore shins again so he's coming home to rest and grow. he'll come into to himself next year or perhaps this fall. he's a nice colt who will take some time to mature and grow. while like all owners, gp likes winners, our horses are too important to run them when they aren't either fit nor happy. so giving shek-o time isn't a reflection on his ability but rather a concern for his well being. campy needed a race to "learn" the business and she should be forwardly placed after this past effort.
---
8/15/01
false pass won again at arlington park. it was a stakes trial going 1 1/8 and he won by 3 lengths. that puts him over $90,000
---
8/11/01
| | |
| --- | --- |
| horse name | campanita |
| activity type | workout |
| activity date | 08-11-2001 |
| track | emerald downs |
| surface | dirt |
| distance | 4.00 furlongs |
| workout type | b (breeze) |
| workout time | 48.00 |
| track condition | fast. |
[top]
---
7/30/01
campanita had her second official work at emerald downs. she went in company 3f in 36.20. the first work over the same distance was 35.4 out of the gate in company. it seems she knows how to go fast, now we just have to teach her how to relax a bit.

false pass won his last two starts arlington park. his earnings are now $81,866. both races were at 9f the last a starter alw.
he won by 7 and then won by 9l. what a guy!
[top]
---
5/28/01
short note from england (supplied by mary lou's webmaster)

the differences in us/uk racing would be worth a web site of it's own, however this weekend's racing at haydock and sandown popped up with something i've never seen, although that could easily be ignorance on my part. in saturday's racing at haydock they mentioned that a certain mare was in foal and the punters should realize that it took a few races after breeding to get back in 'form'. today at sandown two races were won by fillies or mares in foal. the first race was won by a 33-1 shot swift dispersal the grey filly ridden by frankie dettori (yes that dettori!).
and next,in the third race, the grey mare cassandra go beat nuclear debate, who mary lou saw run in hong kong! cassandra go won the grp 2 temple stakes and picked up $24,000 for the win. nuclear debate was third ridden by y. take.
---
5/27/01
best judgement is 3rd in the kent handicap
1 best judgement - prompted pace, edged clear, collared between horses, gave way
emerald downs - may 27th, 2001 - race 9 race name: kent h
stakes - for thoroughbred three year old fillies one mile on the dirt
purse: $45,000
---
5/21/01
thunder zoot following his win at portland meadows on the 6th moved to emerald downs. he was 3rd on his first outing here on sunday.
claiming - for thoroughbred three year olds (nw2 x) one mile on the dirt purse: $10,000

thunder zoot: unhurried early, rallied inside, steadied, late rally
---
5/18/01
campanita exercised today and after a very eventful morning, she will work without blinkers for awhile!
---
5/14/01
campanita has moved to the race track and is in doris harwood's barn
---
5/13/01
shek-o got "gate-ok'd" today.he is getting out of the gate in a hurry. he's still such a little kid.....star gazing at everything in spite of the blinkers. he views life as a big game....fun, fun, fun. i love that about him, but i hope he gets serious in the afternoons
---
5/06/01
best judgement 3rd in the federal way handicap brings her winnings to over $100,000. thunder zoot won his race though!
---
5/02/01
horse: shek-o prospect
distance: 3f
time: 0:36.0 bg d
surface condition: fst
track: emd
[top]
---
4/27/01

shek-o prospect with his new blinkers
---
4/22/01
best judgement's wins us banks stakes
emerald downs--------best judgement wins without shoe
by dick rockne
special to the seattle times

auburn - as a long-time trainer of thoroughbreds, doris harwood is familiar with the valleys and peaks of a profession dependent on the whims of race horses. a year ago at emerald downs, harwood was in a season-opening slump that reached 36 straight losses before oh well johnny scored a victory may 13. this year? after three days of racing, five of the 15 horses harwood has
saddled have won, including "shoeless" best judgement in the $35,000 u.s. bank stakes yesterday.

why?

"i got rid of all my horses that needed careers as show horses," harwood said. "all that i have left in the barn are race horses. having good horses in the barn makes me look good." certainly one of the good ones is best judgement, who scored victories in the wtba lassies and the northwest stallion stakes on the way to being named emerald downs' top juvenile filly as a 2-year-old in 2000.

now, after winning her first start as a 3-year-old, best judgement appears destined to be a factor throughout the oaks series of stakes races. particularly if she keeps all of her shoes on for an entire race. it was discovered after the u.s. bank stakes that best judgement had thrown her right front shoe sometime during the six-furlong event. nevertheless, she completed the three-quarters of a mile in 1 minute, 9-4/5 seconds while resisting a challenge from runner-up shandra smiles.

"it (the loss of the shoe) shows that she's gutsy enough to give 100 percent no matter what," harwood said. "i think that (loss of) a front shoe would bother a horse the most. she is a powerful filly off her front end and she's got a heck of a shoulder on her."

jockey gary baze said the victory by best judgement illustrates the kind of job harwood has done in getting horses ready for the meeting.

"everything has come out of the barn running," baze said after best judgement became emerald's first 2-year-old filly champion to win the u.s. banks stakes, the traditional oaks series opener.

as planned, baze kept best judgement running behind the pace-setters, shandra smiles and sophisticated slew, down the backstretch. going into the turn, baze began to make his move on the outside. coming out of the turn, best judgement and shandra smiles, with gallyn mitchell riding, locked up in a duel that continued inside the 16th pole. at that point, best judgement pulled away to a three-quarter-length victory. anita maria, ridden by frank gonsalves, closed for third.

"the race set up like i dreamed it would," harwood said. "it was absolutely ideal to have a couple of speed horses in there that gary could wait to go by."

best judgement, the favorite in the field of six, paid $3.60, $2.80 and $2.20. shandra smiles, who was making only her third start, returned $3.80 and $2.80. anita maria paid $3 to show.

the victory improved best judgement's record to 4-0-2 from seven starts and increased her lifetime earnings total to $95,188 for owners terry and mary lou griffin, proprietors of the griffin place breeding farm near buckley since 1976.

the home-bred daughter of demons begone/bold magestrate is the first horse they have bred and kept to race.

"we knew we were going to keep one from that crop," mary lou said in referring to four yearlings they sent to the wtba's 1999 sale. after three were sold, the griffins in effect withdrew best judgement from the sale and kept her. "we are real happy," terry griffin said. "we had a good year last year. we hope we can bring some more excitement to the fans this year with a good washington-bred."
---
4/14/01
mr bulldog ran 4th in the wildcat handicap stakes at turf paradise, a 1& 3/8 mile race on the turf. his winnings went over $100,000 to $101,115.( a lot of imported turf specialist showed up!!!!)
---
4/07/01
thunder zoot, bred by griffin place and pat murphy won at portland meadows
[how to make money from testing products]
---
4 of the best time. S.
That's something you just won't find in your local Maryland casino. Ocean Downs now boasts a complete blend of pari-mutuel betting at the track, slots and table games.
---
All of FanDuel's properties are synced, so feel free to give them a shot using the same login as your sportsbook account! First off, games are played every single night – there's hardly ever a day off.
These sites offer games that mimic the types of slots and table games you'd find at actual casinos. Colorado has allowed pari-mutuel betting on horse races since 1949.
Bets can be placed on any esport or sport, both pre-match and in-play. In fact, many bookies have invested time and money into developing dedicated apps.
---
3/21/01

3/21/01

hip 316, by cahill road sold for $300,000. the speedy judge tc colt hip 301 was bought back for $62,000.
---
3/17/01

cahill road colt tops sunday's obs works
by blood-horse staff

the following is a release from the ocala breeders' sales company:
hip no. 316, a colt by cahill road consigned by eisaman equine, agent worked an eighth of a mile in :10 2/5, the fastest work at the distance at the second session of the under tack show for the ocala breeders' sales company's march sale of selected 2-year-olds in training. the colt is out of blockbuster lady, a half sister to stakes winner lady blockbuster. see the rest at http://news.bloodhorse.com/viewstory.asp?id=3304.

hip no 301, one tough note, a half brother to stakes winner afternoon affair by judge t c consigned by gabriel dixon, agent, worked a quarter in :21 4/5 ( the fastest quarter was 21 3/5)

gp has shares in cahill road and a yearling by judge t c out of the huckster mare atoyac.

cahill road also had a stakes placed runner, hallshill road who ran 3rd in the tejano run stake at turfway park on 3/17
---
3/10/01

shek o prospect in the wash rack. last week he was a spooky baby race racehorse. this week he looks like a pro who has done this so many times it is now boring!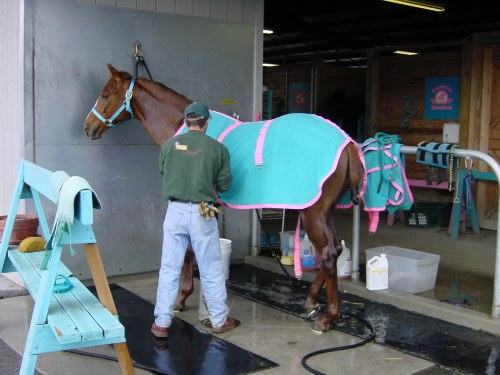 ---
3/8/01

-- thursday, march 08, 2001 --
horse distance time surface cond. track
--------------------------------------------------------------------------
best judgement 3f 0:34.3 b d fst emd
best judgement works 3/8ths at emerald downs effortlessly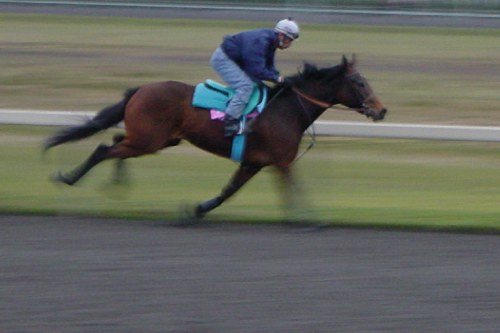 best judgement following her bath and work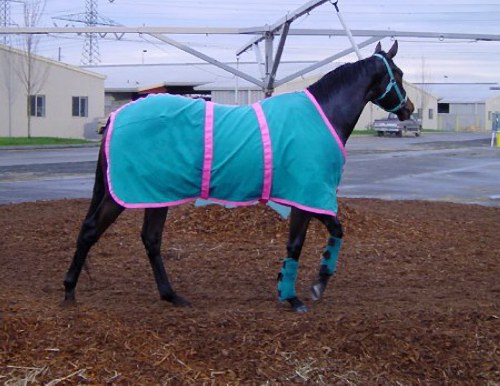 ---
3/6/01
shek o prospect's first day at emerald downs! ( he is the calm one with his ears up and forward). shek o prospect is co-owned by lady rebecca purves and griffin place. ( update...he was actually only calm in this photo! new sights and sounds for the curious)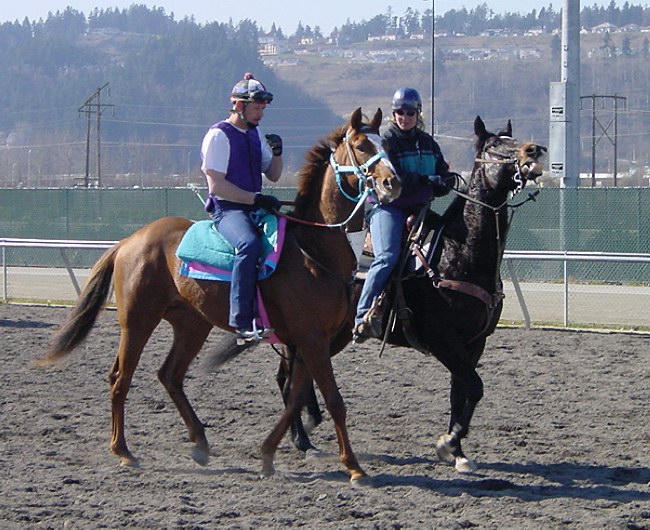 ---
3/5/2001

mr. bulldog, again high weighted on the turf, didn't disappoint as he defeated jeff hudson's favorite prose(ire) in a 1 mile turf race at turf paradise and earned $7320 for the win. a northwest afternoon in arizona!

#2 mr. bulldog: unhurried 1/2, rallied mid turn, 4w to lane, dueled, up late
---
3/4/2001

false pass racing in alw company (stepped up after being claimed for $16,000) was second at golden gate fields at a mile on a sloppy track. he earned $6400.
#4 false pass: dueled, inched clear backstretch, dueled 2d turn, game 2d
[top]
---
2/25/01
emerald downs opened for training in early feb. best judgement returns to the track for her three year old season. shown with doris harwood's pony cherokee and the chief carrot feeder. (lest you think cherokee didn't get any carrots, we are on seconds here!)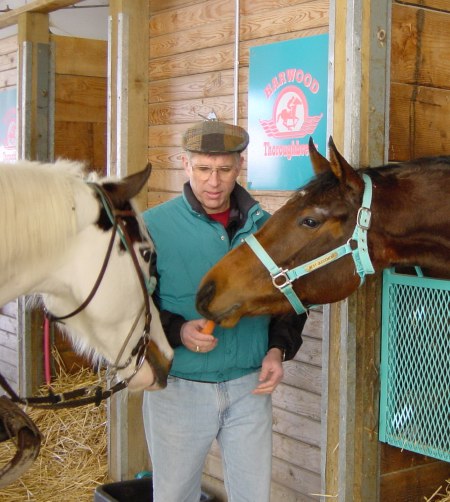 king jeremy, by free at last, was voted champion three-year old colt and horse of the year in british columbia for 2000.
---
2/17/01
basket weave (31/8)--on her roll; rollette, m . 5, gg, 2/17, richmond h., 6f, $28,000
---
2/11/2001

mr. bulldog, at turf paradise, a 1-1/8th mile on turf, came from 6th to 2nd in the stretch run sunday. he was high weighted at 122 lbs. and is nearing $90,000 in earnings.
#6 mr. bulldog: how to make money from testing products reserved at back, launched rally 5/16, up for place
---
2/10 /01

demons begone (26/5)--timber ribbon; timber wolf, c . 4, op, 2/10, alw, 8.5f, $16,800
[top]
---
1/28/2001

mr. bulldog came from 7 lengths back on a sloppy track going a mile to win by 2 lengths. his earnings are now over $80,000.
#7 mr. bulldog: dropped last 1/2, strong inside rally turn, got through on rail

false pass won again at golden gate. he went wire to wire in the 1 mile race and won by 2 lengths on 1/26/01. his earnings are now $41,756.
#5 false pass: quick lead, met bid 1/8th, headed, came again, driving
---
1/27/2001

debs royal flush by demons begone placed second in the vallejo stakes at golden gate fields. griffin place owns shares in demons begone.
---
1/14/2001

mr. bulldog ('96 son of briartic x outofthebluebell) won an allowance race at turf paradise on jan 14th going 1 mile. that brings his earnings to just over $75,000
#11 mr. bulldog: dropped off pace for 1/2, strong rally mid turn, bid 1/8, clear

false pass ('96 slew o' gold x bold magestrate) won at golden gate on jan 7th going 1 mile by 9 lengths!
#9 false pass: quick pace inside,drew clear upper stretch, ridden out
[top]