12/7/05
Free At Last colt tops Washington Thoroughbred Breeders Association sale
Article by Thoroughbred Times

A Free At Last yearling colt sold for $38,000 on Sunday to lead the Washington Thoroughbred Breeders Association's winter mixed sale at Emerald Downs.
The WTBA reported the sale of 196 horses for gross receipts of $629,000, a 29% decrease from $896,150 in 2004. Average price declined 22.3%, from $4,130 to $3,209.
Frank Gaunt bought the sale-topping colt out of Northern Whirl, by Island Whirl, from the consignment of Griffin Place, agent for Robin Mason and Stormy Hull.
The second-highest price was $25,000 for Prado's Joy, who is in foal with a full sibling to stakes winner Spanish Highway, by Cahill Road.
Ron Stolich bought the 11-year-old daughter of El Prado (Ire) from the consignment of Blue Ribbon Farm, agent for Fell Hill Farm.
---
12/5/05
WTBA Mixed Sale Suffers Setbacks
Article by Bloodhorse.com
Edited Washington Thoroughbred Breeders Association press release
Business was down during the Washington Thoroughbred Breeders Association's winter mixed sale Sunday at Emerald Downs. The WTBA reported that 194 were sold for a gross of $617,500 and an average of $3,318. Last year, the 212 horses sold grossed $877,350 and averaged $4,138.
A yearling Free At Last--Northern Whirl colt topped the auction, bringing $38,000 from Frank Gaunt of Covington, Wash. Griffin Place, agent for Carnation Racing Stables, consigned the colt.
---
9/14/05
Buckley filly nabs $100,000 bid
By Dennis Box
The Courier-Herald
Griffin Place filly gets top bid at Washington Thoroughbred Breeders Association Summer Yearling Sale Sept. 6.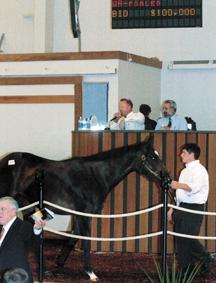 Photo: Duane Hamamura
The magic of making a racehorse is an art Mary Lou Griffin has been practicing for nearly 30 years, and her hard work showed at the Washington Thoroughbred Breeders Association Summer Yearling Sale Sept. 6.
Mary Lou and her husband, Terry, own Griffin Place in Buckley, one of the premier Thoroughbred breeding farms in the state.
At the yearling sale, a Griffin Place-bred filly fetched $100,000, the top selling horse in the sale.
"I was stunned," Mary Lou Griffin said. "I thought this filly was the best individual we brought to the sale, maybe that we've ever brought. She was a favorite of mine. I would have been happy to take her home and race her."
The filly, sired by Tribunal, who stands at El Dorado in Enumclaw, was out of Griffin's broodmare, Bold Magestrate, and was bought by Emerald Downs' track president Ron Crockett.

The business of breeding racehorses started for the Griffins in 1976. Last year they sold their mare, Cozzene's Angel, at the Keeneland, Ky., all-ages sale for $1.35 million. It was the highest price any state breeders received for a horse in a public sale.
"It's hard to think in that many zeros," Griffin said.
Griffin traveled to Keeneland this week to sell Cozzene's Angel's yearling colt by 1981 Canadian Horse of the Year Deputy Minister.
The Washington sale was also a high-end success for breeders Ron and Nina Hagen, owners of El Dorado Farms. Their Tribunal colt out of Downpatrick Dragon sold for $65,000 to Dick and Diane Roeper of Peoria, Ariz.
Tribunal had a remarkably successful first-year as a stallion with 20 percent of his yearlings bringing in bids of more than $25,000.
"I was really excited for Tribunal," Griffin said. "His foals are beautiful."
---
3/12/05
Tyler Baze Hangs Win Number 1,000 [Riding Griffin Place-bred, Mashiko]
bloodhorse.com
(from Santa Anita report)
Tyler Baze, a 22-year-old Seattle native, rode the 1,000th winner of his career Friday, guiding Griffin Place-bred, Mashiko to a five-length victory in the fifth race at Santa Anita Park.
It was the second victory of the day for Baze, the meet's leading rider with 46 wins, and his third victory in two days after ending 49-race winless streak on Thursday.
"I'm glad to finally get it over with," Baze said. "I've been riding five years and five months. It's been a lot of work. I want to thank God, and the owners and trainers who have supported me."
Since riding his first winner on Oct. 31, 1999, at the Oak Tree at Santa Anita meeting, Baze has consistently ranked among the leaders of the tough Southern California jockey circuit. He won his first major riding title at the 2004 Hollywood Park Spring/Summer meeting, becoming the youngest jockey to accomplish the feat since Laffit Pincay Jr. in 1968. Baze was voted the Eclipse Award for top apprentice jockey of 2000.
"He's just a great kid," said Doug O'Neill, the meet's leading trainer with 37 wins. "Whether it's a $10,000 claimer or a graded stakes race he listens and tries hard every time and that's all you can ask for."
Baze's 1,000th winner came aboard Griffin Place-bred, Mashiko, who led virtually gate-to-wire while running six furlongs in 1:09.74. It was the third victory from 22 starts for the 5-year-old gelding, who had lost seven straight races before winning Friday's event for $32,000 claimers. Gary Stute is the trainer for owners Don Beardsworth, Dennis Decauwer and Peter Lurie.
Baze credited his agent, Ivan Puhich, with much of the success.
"He's unbelievable," Baze said of the Renton, Wash. native. "He works hard and he's 79 years old. He's always been very supportive and tries to keep my head up. All I can do is shoot for 2,000 now."
Mashiko paid $10 to win and helped create a Pick Six carryover of $108,239 into Saturday.
---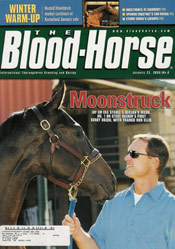 2/5/05
Cozzene's Angel on the cover of THE BLOODHORSE.
View article on PDF (13 mb).

---
2/5/05
Mary Lou Griffin Interview on KJR from the sixth floor of Emerald Downs.

Click to listen (14 mb).
---
1/28/05
View from the Rail: Breeders cash golden ticket
By LARRY LEE PALMER
SPECIAL TO THE POST-INTELLIGENCER
Earlier this month, a mom-and-pop breeding operation in Buckley blew down the doors of a prestigious Kentucky thoroughbred auction with the sale of broodmare Cozzene's Angel for $1.35 million.
Terry and Mary Lou Griffin had purchased the mare in 2000 for a mere $35,000.
But it is the rags-to-riches story of how the tiny Griffin Place breeding operation came to be in the first place that's pure gold, a Homeric tale that begins with the proverbial horse of a different color.
The horse's name was Paint.
The Keeneland Auction near Lexington is the epicenter of bluegrass aristocracy, an equine cathedral of ivy-covered stone, a Valhalla of understated elegance.
As Mary Lou Griffin and her small entourage find their seats near the rear of the sales pavilion, her knees feel weak. Her hands begin to shake.
It wasn't supposed to happen like this, she thinks.
She gazes across the room at some of the wealthiest people in the world -- Sheiks like Mohammed bin Rashid Al Maktoum, Malaysian multibillionaires, Japanese electronics magnates, and the powerful Irish conglomerate known as Coolmore Stud.
The bidding begins, rapid fire but somehow soothing, the cadence and tone of the auctioneers rising and falling like plain song, the staccato "tobacco chant" left over from Southern antebellum days now a language all its own.

It would be a while before her mare enters the ring.
Her thoughts wander.
When she met her husband, Terry, Paint already was 13 years old, but she could remember everything like it was yesterday.
Paint loved to eat and hated large-animal veterinary clinics.
When she was a freshman at Colorado State, Mary Lou rode her mare to school a lot; low cost vet care was difficult to come by. She had to go a different way each time -- Paint was hard to fool; one sniff of the vet lineaments and she wouldn't budge. But riding home (in the general direction of the oat bucket), Mary Lou could barely hang on.
But she clung hard to her dreams about horses; Vietnam seemed far away when Terry's orders came to head for Fort Lewis. With little money, they meandered north and slept where they could, that old '57 Willy's Jeep hardly able to haul the horse trailer.
Who would believe that damn Jeep burned 17 quarts of oil or that the tongue of the trailer literally fell off in the street, or that they made do in a heated men's room in a horse arena one night to stay warm? Back then they were too dumb to believe in anything but dreams.
Paint was family; wherever they went, she went, too.
When they got to Fort Lewis, the only thing the Griffins could find to rent was a small apartment in a housing complex in Spanaway. The complex was on three acres, and they talked their way into erecting a temporary shelter for the ever-faithful Paint.
That's where they met Debbie and Rick Pabst. Lifelong friends are hard to come by, especially friends who sell you the first 10 acres of what is to become Griffin Place.
That was more than 30 years ago. Paint lived until she was 41. Eventually, they buried her on the place, but not before the old gal captured the heart of Dagger Dancer, a strapping son of Sword Dancer who once stood at Woodstead Farm.
Apparently, they used Dagger Dancer as a teaser (to get the mares aroused); some said Dagger Dancer wouldn't perform his breeding duties if Paint were in sight -- Dagger Dancer just didn't want to cheat on her.
With a lump in her throat, Mary Lou remembers Paint had his foal.
Then a few years back comes the run of luck breeders hunger for. They buy Cozzene's Angel in foal for a song ($35,000), an amazing price considering the owners paid $200,000 the year previous.
In partnership (because the stud fee was so high), they breed the mare back to two-time leading North American sire Deputy Minister.
Two years later, Cozzene's Angel's first foal, Toccet (named after a hockey player), becomes a multiple Grade I stakes winner and makes their breeding gamble look like holy writ.
Whatever her mare sells for today, the yearling sired by Deputy Minister will bring yet another financial windfall this September.
Suddenly, Terry squeezes her hand so tight her fingers turn white. Bidding for the mare begins.
The auctioneer starts at $700,000, what he thinks the mare might sell for. No takers. He backs the bidding down until they start at $75,000. Mary Lou thinks, "Oh, lord, we didn't set a reserve (the price under which they would not sell the horse)."
Not to worry. Two bidders go toe to toe and the price shoots upward, levels out at $600,000, and then marches lockstep toward the magic number.
One million! This can't be happening to us! She turns to Terry, who looks bewildered.
Mary Lou begins to cry.
Minutes later, one of the bidders fail to counter an offer of $1.35 million and the gavel comes down on a fairy tale.
The news of the chart-topping sale of Cozzene's Angel struck a chord deep in the tight-knit Washington racing community, proof to many small operations here that the courage to dream isn't divine provenance to those born of wealth and power.
Few will remember the mare Paint, or visit her grave on a Washington farm, or know she died the same day as Secretariat, or why that fact should matter.
To the racing elite, Paint was a common sort.
But the bloodlines of Cozzene's Angel -- rich as they are -- share a secret covenant with Paint and perhaps, with us; a covenant buried deep inside the cell itself where, as D.H. Lawrence proclaims "a horse prances."
In any event, it is somehow reassuring that sometimes -- without earthly reason -- good things do happen to good people.
Larry Lee Palmer writes about horse racing for the P-I. He can be reached at larryleepal@aol.com or sports@seattlepi.com.
---
1/19/05
Cozzene's Angel sold for record $1.35 million
By Dennis Box
www.courierherald.com

Mary Lou Griffin and Cozzene's Angel at the Keeneland, Ky. all ages sale, January 11, 2005. Photo by Terry Griffin.
Mary Lou Griffin has an angel looking out for her - Cozzene's Angel.
Griffin and her husband Terry own Griffin Place in Buckley, one of the state's top Thoroughbred breeding farms.
They have been in the racehorse business since 1976, carefully building their reputation as one of the best market breeders in the state.
Late last year, Griffin decided to take her broodmare, Cozzene's Angel, to the Keeneland, Ky., all ages sale, and to her surprise, the mare sold early this year for $1.35 million, the highest price for any horse in the sale.
"I never imagined she would be the sale topper," Griffin said. "I thought she might go for half of that."
The mare not only topped the sale, according to Washington Thoroughbred Breeders Association President Ralph Vacca, she gained the best pay day ever for a state breeder sending a horse through a public sale.
The entire Griffin family, including son Devin and daughter Keelia, went to the Keeneland sale.
"We've been in this business a long time," Griffin said. "This time everything lined up. We walked into the pavilion to take it all in and at one point the bidding was going up by $100,000 jumps."
Reily McDonald of Eaton Sales and Tony Ryan of Castleton Lyons got into a bidding war, which McDonald won.
"It was a thrill," Griffin said. "I don't think I've slept over four hours since it happened."
Griffin bought Cozzene's Angel in 2000 at the Fasig-Tipton Kentucky sale. They had gone back to watch their homebred filly and Grade I winner, Rings A Chime, go through the sale.
"We weren't planning on buying a horse," Griffin said. "Debbie Pabst (owner of Blue Ribbon Farm in Buckley) had put a list of horses together and Cozzene's Angel was right at the top. We looked at her and really liked her, but I didn't think there was any chance we could get her."
They had decided their limit was $30,000.
"When it hit $32,000 I stopped," Griffin said. "Terry said bid one more time. I wouldn't have done it if he hadn't encouraged me."
The Griffins got her for $35,000.
Cozzene's Angel's stock rose very quickly when her first foal, Toccet by Awesome Again, won the Champagne Stakes at Belmont Park and the Hollywood Futurity at Hollywood Park as a 2-year-old, both Grade I races.
Toccet won four of five graded race as a juvenile, earned $931,387 lifetime. Gabriel Duignan ownes him and he will stand at Castleton Lyons.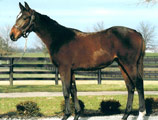 Deputy Minister x Cozzene's Angel colt.
In 2003, Griffin bred Cozzene's Angle to 1981 Canadian Horse of the Year and leading sire Deputy Minister. The colt, owned in partnership by the Griffins and John Sikura, president of Hill 'N' Dale farm in Lexington Ky., is scheduled to be sold in September at Keeneland.
This year, the mare is in foal to Grade II stakes winner Pulpit.
"I hope this is an inspiration to all the little breeders like us that work in the mud and deal with the problems of this business day in and day out," Griffin said. "Good things do happen."
Dennis Box can be reached at dbox@courierherald.com.
---
1/16/05
Buckley Horse Breeders Hit It Big In Kentucky
WTBA artcle
Mary Lou and Terry Griffin, owners of Griffin Place in Buckley, hit a breeders' bonanza on January 11, selling their Thoroughbred broodmare Cozzene's Angel at public auction in Kentucky for $1.35 million.
Cozzene's Angel was presented at the Keeneland sales grounds in Lexington, KY, which is the foremost Thoroughbred sales venue in the world. The 11-year-old mare sold in foal to the popular Kentucky stallion Pulpit and the final price will likely make her the sale topper at the six day auction that ends on January 15.
Purchaser Reiley McDonald of Eaton Sales, acting as agent for undisclosed buyers, told Thoroughbred Times "She's a big, lovely mare and she's carrying an American based foal. The foal will probably go to sale."
The Griffin's purchased Cozzene's Angel in late 2000 for just a fraction of what they resold her for and have raised and sold three of her offspring in the interim. They are also currently the co-owners on a foal sharing arrangement of the mare's youngest foal, a yearling colt by two-time leading North American sire Deputy Minister. If all goes well, that youngster could possibly bring seven figures as well when he is offered for sale at Keeneland this September.
---
1/13/05
Toccet's Dam Sells At Keeneland For $1.35 Million
by Deirdre B. Biles
Bloodhorse.com
Cozzene's Angel, the dam of multiple grade I winner Toccet, sold for $1.35 million Tuesday as the Keeneland January horses of all ages sale gained momentum and shot ahead of last year's pace.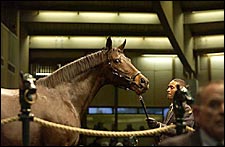 Cozzene's Angel, brought $1.35 million at Keeneland sale.
Anne M. Eberhardt Photo
Reiley McDonald of Eaton Sales purchased session topper Cozzene's Angel, outlasting Dr. Tony Ryan of Castleton Lyons, the Kentucky farm where Toccet stands at stud. Former Castleton Lyons president Gabriel Duignan bought Toccet for $3.35 million last November at the Fasig-Tipton Kentucky select mixed sale.
McDonald said Cozzene's Angel, an 11-year-old daughter of Cozzene, would be owned by an undisclosed partnership and would remain in this country. Acting on the behalf of the same partnership, McDonald bought Santa Catarina for $4.8 million and Take Charge Lady for $4.2 million at the 2004 Keeneland November breeding stock sale. Cozzene's Angel is in foal to Pulpit, and McDonald said that offspring probably would be sold as a yearling at Saratoga or Keeneland in September.
"She (Cozzene's Angel) is a big, stout, good-looking mare; she's the best mare in the sale by far," said McDonald, whose high-powered clients include Coolmore Stud and Betty Moran. "I thought she probably would have gone for $1.5 million or $2 million in November."
Cozzene's Angel was a winner that placed twice in added-money events. Out of the winning Trepan mare Charming Pan, she is a half-sister to stakes winners Courtly Candor (by Fight Over) and Miss Walkie Talkie (by Miswaki).
John Sikura's Hill 'n' Dale Sales Agency consigned Cozzene's Angel as agent for Mary Lou and Terry Griffin, who own the 30-acre Griffin Place near Buckley, Wash. Mary Lou Griffin purchased Cozzene's Angel (in foal to Aggressive Chief) for only $35,000 at the 2000 Fasig-Tipton Kentucky November mixed sale.
"I'm thrilled," Mary Lou Griffin said. "This is one for the small breeder. Sometimes your dreams do come true."
The Griffins and Sikura own Cozzene's Angel's Deputy Minister yearling colt together. He is scheduled to be sold later this year at Keeneland in September, Sikura said.